It's BOOBS week over at Toy With Me, and I'm talking about the one awesome legacy my children left me. And no, I'm not talking about my accordion-like stomach folds, which, I admit are dead sexy.
(want to make out?)
As always, you have an idea for a future topic for a column over there, please, drop me an email to aunt.becky.sucks@gmail.com or leave me a comment.
Click the smiling beaver to be whisked away: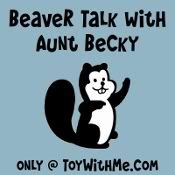 ——————-
Aunt Becky: "Just so you know, I found one of your pubes on the baby's high chair today. It was disturbing. I know you didn't put it there or anything, but still. EW."
The Daver (totally not listening): "AWESOME."
Aunt Becky: "So NOT full of The Awesome. That's full of The Awful.
The Daver: "Whatever, that's full of The Awesome. I'm marking my territory."
Aunt Becky: "You leave a trail of those around the house and it's gross. You're shedding pubes. It's like The Trail of Tears."
The Daver: "Dude, no way. That's a Treasure Trail."
Aunt Becky: *shudders*
——————–
And YAY for contests that are annoying and make me annoy you a lot and so I petition you loudly to vote for me because that is what blogs are for, unless you count being full of self-important bluster, which, of course, obviously.
I'm up for this award you should vote for me. And while you're there, you should vote for me for this one too.
And then you should vote for me here, too.
Because if you do that? I will show you a picture of the best Halloween costume I ever dressed up in. And this requires me doing actual work to go and find the picture at my parents house.
(obviously, you should cue the violins and cry tears for me at all of the pain and suffering you're putting me through by making me work. o! the humanity!)
I'll give you a hint: there were several people who didn't know me and had no idea I was dressed up. It was FANTASTIC. Man, you're NEVER gonna guess what it was. I feel like I should tell you or something because seriously, it was THAT good.
*bites knuckles impatiently*
I suck at secrets and I can hardly wait to tell you. I imagine tomorrow you'll see what this is, so vote.
Please?
Won't SOMEONE think of the children?!?