What do you call a PS that comes before the whole post? A Pre-PS? Pre-PS – The following probably won't make much sense, so you can totally just skip ahead to the pictures. If you've never read me, then it definitely won't make sense, but if you're familiar with me, then you know it's just been another Wednesday.
I don't know if y'all know me, but I'm Guilty Squid. I'm a self proclaimed Internet Superstar, Unofficial Spokesperson for Urban Spoon and the 2010 Internet Coroner. That last one was by popular vote. So people like me, dammit!
Best of all? I have real friends. On the Internet. And one of those is your Aunt Becky.
Aunt Becky was brave enough to let me at this place while she's out of commission, because she worries about you people worrying. So I was all, "Dude, updates? I can post updates!" I mean, I'm totally baffled why y'all would even want updates on my day, but you know what? I was all, "Shut UP me. If Becky needs updates, then dammit, that's totally what I'm going to give her people!"
Also, I'm ADHD and I write like I think so it's not so much with the carefully thought out stuff, it's all fast forward and sporadic and covered in crazy. In other words? Awesome.
Yesterday at lunch I gave my boss a disembodied head to drink his coffee from and I have to be honest, I'm totally getting a promotion probably just from that one gesture. Honestly, I'm not sure why I don't have more friends with my smooth moods. The update here is that while in a meeting this morning, the boss texted me:
And then sometime hours after I wrote all that, I finally got away from work and stuff and things and was all, Dammit. This is why I don't have friends. Because the updates? They didn't come.
There were a lot of things that happened though. First, two of the geeks in the office wanted me to go to lunch with them, but I was totally planning to do some shopping at lunch so I sent the guys off to have lunch with each other. And then they were all, "You should have come to lunch with us." which was nice and all, but then it was, "No, you really should have come with us." and then I was all, "Wait. WHAT?" And then it was, "You help break the ice." and that's when it totally hit me. I'm the most social of this particular group. That's never happened. Which just was probably not as full of the win as I feel like it is, but I'm totally pretending that it is.
But, the overall greatness is that I can totally give you the notes of the updates in a rundown form for Becky and even though this probably seems like it's getting posted really late, I'm pretty sure it's just the time difference. If you're in Japan, then I'm posting this yesterday which would mean that Becky hadn't even HAD her surgery yet so I'm the best friend ever. How lucky is she anyway? Pretty damn lucky, it would seem.
Anyway, the next thing I knew it was all late and I still hadn't hit post, so y'all are just getting my notes.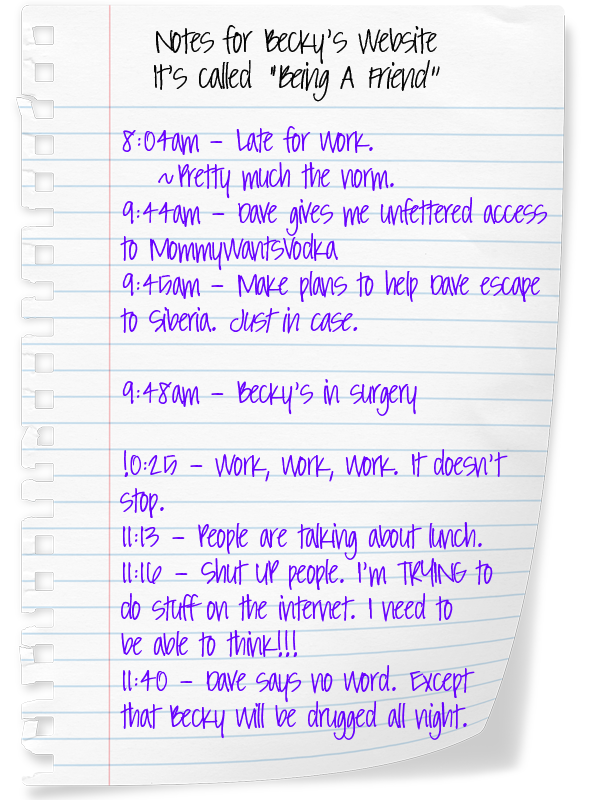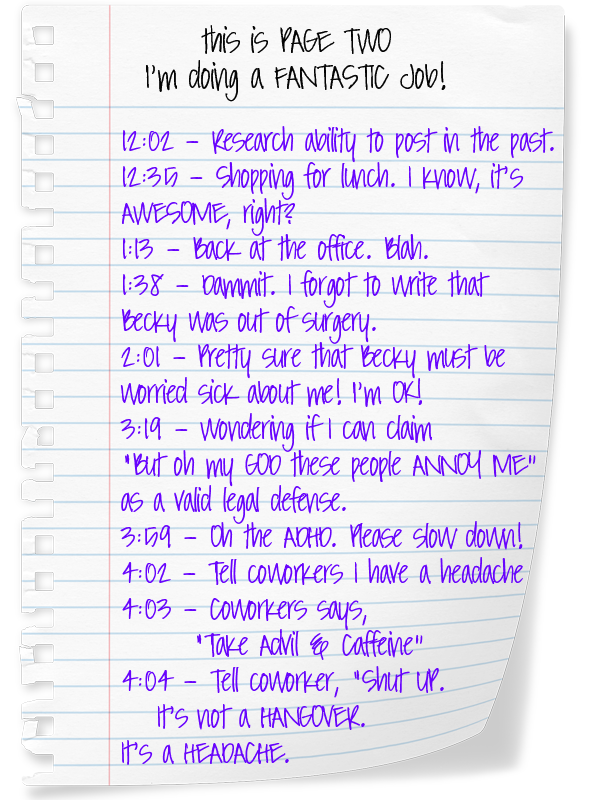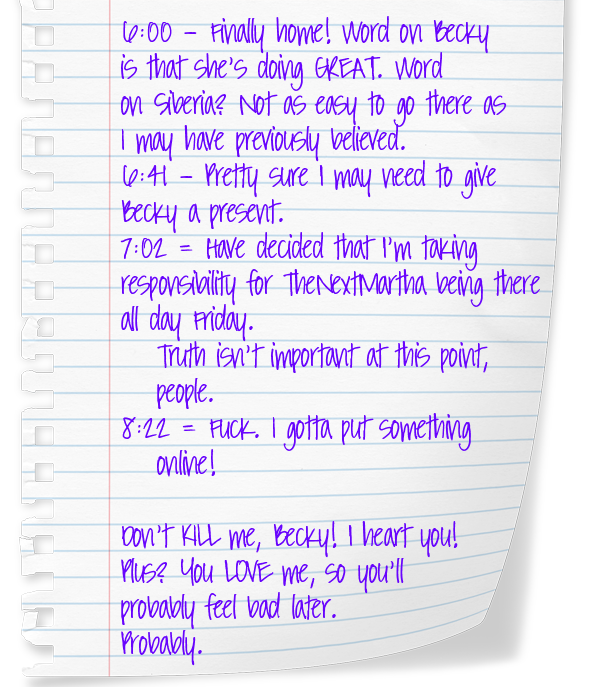 So, yeah. I guess this was a fail. But good news, everyone! I get to come back and post AGAIN this week.

I'll try to do better then, but to be honest? I'm sort of easily distracted, so that could end up as anything.

And Becky? I got you a little something.

36 Comments to