Aunt Becky's Family Reunion: Knotty By Nature takes to the high seas on March 7, 2011 for a four day cruise of the Bahamas out of Port Canaveral, Florida.
This is a mobile mischief, tomfoolery, drinking and merry-making trip where you can learn all about how to properly swear, blog, and lazily lounge about the bright blue ocean. There's nothing not full of the awesome about this.
ALL ARE WELCOME. Let me repeat that for you in case you didn't believe me: ALL ARE WELCOME. That means YOU, Prankster, who is lurking out there, reading this and wondering if I mean it. Oh yes, I do. We're calling it a FAMILY REUNION, after all, because when you're here, you're family. SORRY.
You can bring your family, your friends, your kids, your spouse, your lover, your mistress, your master, but probably not your pet. I mean, unless it's a pet rock. Because I don't think that's up to health code, not because I have a problem with pets. But that's between you and the cruise ship.
If you have a vagina, you can come*.
If you have a penis, you can come*.
Frankly, if you have both, you can come*.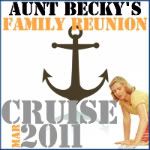 I have a feeling it'll be a mix of both sexes because who doesn't want to see THIS HOT ASS in a bathing suit? *smacks ass*

You don't have to be a blogger or even like blogs because frankly, The Internet costs 6 bazillion dollars when you're wearing your flipping floppy's on the Lido deck, and while we may talk some shop, you won't be out of place BECAUSE YOU'RE ON A BOAT.

So shut your whore mouth, quit your worrying, and GET YOUR ASS IN GEAR, PRANKSTERS!

Are you IN?

Slap the official badge (code OVER THERE in the sidebar —>) up on your blog to let the world know you're gonna be ON A MUTHER TRUCKIN BOAT.

We'll have the t-shirts to match that you'll pretty much want all over your chesticles up and ready to buy in the next few weeks. For now, Mr Linky yourself here when you've paid your deposit.


Itinerary

Monday, March 7th – Port Canaveral, Florida, Depart 4:30 PM
Tuesday, March 8th – CocoCay, Bahamas 8:00 AM-5:00 PM
Wednesday, March 9th – Nassau, Bahamas 7:00 AM-11:59 PM
Thursday, March 10th – At Sea (DRINKING)
Friday, March 11th – Port Canaveral, Florida 7:00 AM Arrive BACK TO REALITY

We wrangled the services of a group cruise agent to help us out (another Prankster, Amber) so if you want to be a part of this, which, you do, because obviously, you want to go through her (details below).

Cruise Rates

Rates are as follows (and may be subject to a fuel surcharge that will be no more than $10/guest/day):

Category H Oceanview Cabins: $426.34/person which includes all taxes, port charges AND gratuities.
Category N Inside Cabins: $381.34/person, which also includes all taxes, port charges AND gratuities.
(download this PDF flyer for more detailed information)

Here's where it gets awesome. Deposit is $200 per cabin (or $100 per person), but the rest of the amount can be paid with payment plans up until December 1st. I mean, it would be MORE awesome if it were free, but hey, PAYMENT PLANS. Just like a vacation layaway plan.

Our cruise agent, Amber, will work with each of you individually to work out payment plans.

All deposits are fully refundable until December 1st, so if something comes up, you can pull out. Nothing will come up.

If Royal Caribbean drops fares, we'll get the reduced fares. *score!*

We can also book other categories of rooms and still be a part of the group.

Booking Information

We convinced you, didn't we? The promise of floating in a large ship on an Internet Family Reunion with Your Aunt Becky and Angie was too good to pass up. FLOATING BLOGGING CONFERENCE, yo. Want MORE information? Download this brochure.

So this is what you do. I don't want to deal with money because I'd spend it or lose it and it's not my thing.

If you are a US citizen, you DO NOT NEED A PASSPORT. It's highly suggested, but you don't need one. If you have one and it's expired, no problemo – it's still accepted. If you don't have a US passport, then a certified copy of your birth certificate and driver's license is all you need. If you're not a US citizen, well, duh. Yeah. You need a passport to get into the country. doof.

Contact Amber, our group cruise booking agent. She'll talk you through everything you need to know about a cruise, including passport information, travel insurance, the best things to wear for formal night, and whether or not I am actually insane.

amber@cruiseresource.com
Cruise One
4195 S. Lewiston Cir., Aurora, CO 80013
p: 303-690-8997 | f: 303-690-8986
TOLL FREE: 888-SAIL-123 (888-724-5123)
http://www.cruiseresource.com

Ship Details

I tried to get the ship named the S.S. Pranksters, but sadly, they insisted that the name was actually the Monarch of the Seas which has a sort of stately ring that made me happy in the pants. I accepted it THIS time, Royal Caribbean, but I WILL be back. *shakes fists.*

Port Canaveral, Florida

I don't live in Florida, I live in Chicago, so I'm commuting in, which, I'm guessing, a bunch of you will be, too. The ship leaves out of a big ass dock in the port, but the area is RIGHT BY Orlando, Florida. And in Orlando is…DISNEY WORLD. It's a pretty sweet set-up, yo.

Florida is also ASS HOT, so get used to it, those of you who will be coming from cold places, like me. In fact, I'll probably be almost as white as a larva coming from Chicago in the dead of winter (March = winter in Chicago). In March, however, Florida is the land of tres awesome weather. Meaning, really, it's nice. Nice as in high in the 70s, nice.

Angie lives in Orlando, but really only has room for 10-15 people to cram their asses on the floor, so unless you want to sleep 69-style on the floor in her Messy House, it's suggested you either fly/drive in on Monday morning or find yo'self a hotel near the Orlando airport for Sunday night. Questions? Just ask Angie.

Additional Information

We'll be adding more information as needed, so we'll let you know when and what you need to to make this a crazy-awesome vacay.

Questions? Leave a comment on the cruise info page (DON'T ASK CRUISE QUESTIONS ON THIS POST, only "yippee! i'm going! squeeee! comments here, please) and we'll answer them cruise info page for everyone to see. Ask a question someone else has already asked in the comments? Lose a finger.

________________________________________

*that's what she said

67 Comments to