Months ago, I was asked by my friend Megan who is the editor of Canadian Family Magazine and she asked if I would be down with posting on their blog, The Family Jewels. With a name like that, how could I possibly say no? I confessed to her that I wasn't actually Canadian because I am full of honesty and integrity (unless there are diamonds involved) and she assured me that this was okay, they'd welcome me anyway.
Canadians are nice like that.
Given my choice of weeks, I chose the first week in December because I am kind of in love with the holidays and I figured that I would lose My Hardcore Edge if I told you guys how much your Aunt Becky squealed during the first snowfall. Or how misty-eyed I got every time I heard "Silent Night" or "Ave Maria." Or how maybe how I begged The Daver to put up the Christmas tree in July.
But whatever.
I've written three posts for them. Satan's Little Helper (which if you haven't read, you should), one that will air later in the week and the one that I am most proud of. Here it is.
Just don't tell anyone that I have feelings, okay?
——————
Because I am full of The Holiday Cheer, I have bugged my friend Chris Mancini to give you a copy of his book, Pacify Me, which is a great read. Even though I am not a father or in possession of a penis, I read it and loved it. Plus, it's the holidays and you can totally give it to someone.
So, it's giveaway time. Which makes EVERYONE happy.
Especially since this giveaway comes with an extra-awesome idea. AN INTERVIEW.
Oh yes, I am interviewing you. ALL OF YOU.
So, if you want to be entered into this giveaway, and I don't know why you wouldn't, because obviously, you have one week from today–December 9–to answer these questions and post my rocking button on your blog. Then come BACK here and leave a comment saying that you did so with a link to your entry. If you don't have a blog, just answer in the comments, yo.
On December 9, at midnight, random number generator will choose a number and Chris will send you a book. Merry Christmas to you! THEN, I have another person tapped to give you stuff next week. I AM SO GENEROUS WITH OTHER PEOPLE'S STUFF!
It's very simple.
Let's get started, shall we?
I'm always telling you to shut your whore mouth. Now it's time to open it.
1) Do you like sprinkles on your ice cream?
2) If you had to choose one word to banish from the English language, what would it be and why?
3) If you were a flavor, what would it be?
4) What's the most pointless annoying chore you can think of that you do on a daily/weekly basis?
5) Of all the nicknames I've ever had in my life, Aunt Becky is the most widely known and probably my favorite. What's your favorite nickname? (for yourself)
6) You're stuck on a desert island with the collective works of 5 (and only five) musical artists for the rest of your life. Who are they?
7) Everything is better with bacon. True or false?
8 ) If I could go back in time and tell Young Aunt Becky one thing, it would be that out of chaos, order will emerge. Also: tutus go with everything. What would you tell young self?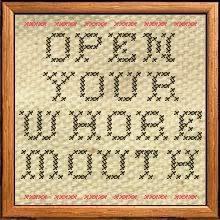 151 Comments to